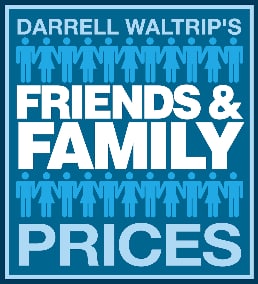 Do you ever wonder how much the people who work at Darrell Waltrip Volvo  or their families and friends pay for new or used vehicles?  Wonder no more! Through November 30,  you can buy for or lease a new or used Volvo  for the same prices as our family and friends - only  at Darrell Waltrip Volvo.
With Darrell Waltrip's Approved Pricing, we've got the Volvo  you like  -  at a price you'll love.
Don't let this holiday classic pass you by.   With discounts on our entire inventory of
New Volvos
and over 9,200
Used Volvos
that available right now through our affiliation with the Hendrick Automotive Group.
Let us pamper your Volvo and maintain it's value with a complete vehicle detail.  Save $75
on services that include interior detailing the passenger and  trunk areas, engine bay detailing , exterior detailing wheels, dressing all plastic, vinyl and rubber surfaces to improve the luster and protect them from corrosion and cracking.
Keep your Volvo in shape with our monthly service specials.
Take advantage of our Valvoline Service Flush service - includes new transmission, brakes, fuel,  coolant and power steering fluids
and
dress up your Volvo with 15% off all Volvo accessories. 
With the Darrell Waltrip Price Assurance Program and  DW's APPROVED pricing,  you're sure to get the best price on any new Volvo in Middle Tennessee.  There is no reason to buy anywhere else.
But - you better hurry in, Darrell Waltrip Volvo's Friends & Family ends November 30, 2017 and  is only available on in stock vehicles. We're open evenings until 8 and the last 2 Sundays of the month from 12 noon to 6PM.  Check us out at DarrellWaltripVolvo.com