Best Prices Of The Year at Darrell Waltrip's World Series of Savings Event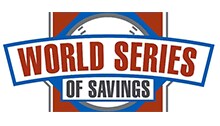 Huge Discounts on Every Volvo in stock!
S-W-I-N-G for the fences and score with our best prices of the year on our entire inventory of new Volvos!
Save with 0% APR for 60 months or save up to 10% off MSRP on select 2020 Volvo models. Current Volvo owners can save up to an additional $1,250 off MSRP and huge discounts on over 100 New Volvos, 50 retired service loaners, demos and certified Pre-Owned Volvos and over 9,200 Used vehicles that are available right now through our affiliation with the Hendrick Automotive Group. 
If you are in the market for a new or used vehicle we are able to find more ways to help maximize the offer for your existing vehicle. Visit our Sell Us Your Car page to learn more about how we determine the value of your vehicle, what you'll need to bring when you sell us your vehicle, and to schedule an appointment for appraisal.
Let Us Pamper Your Volvo! A clean machine maintains the value of your investment. You'll save $75 on a full vehicle detail, including interior, exterior and engine compartment including a FREE 43 point inspection! 
Now is the time to get your Volvo serviced with $100 savings on our belt replacement special. We'll replace the timing belt and all outer belts, including power steering, alternator, water pump and save on Honda parts with $10 savings on all OEM windshield blades!
With the Darrell Waltrip Prices Assurance Program and DW's APPROVED pricing, you're sure to get the best price on any new Volvo in Middle Tennessee. There is no reason to buy anywhere else. 
Don't let this fall classic pass you by. Darrell Waltrip Volvo's World Series of Savings event ends October 31, 2020 and is only available on in stock vehicles.
We're open evenings until 8 and the last 2 Sundays of the month from 12 noon to 6PM.