The Drive Away Hunger Challenge was started in 2012 by the Darrell Waltrip Automotive Group as a way to help fill local food pantries by partnering WCS High Schools with GraceWorks. Since then the challenge has grown to include Franklin Special School District & Williamson County Elementary and Middle Schools and has collected more than 825,000 pounds of food for local pantries including GraceWorks, The Well, One Generation Away, College Grove Food Pantry and The Nolensville Food Pantry.
Are you a school in Williamson County or Franklin Special School District School interested in hosting your own Drive Away Hunger Challenge? Sign up here: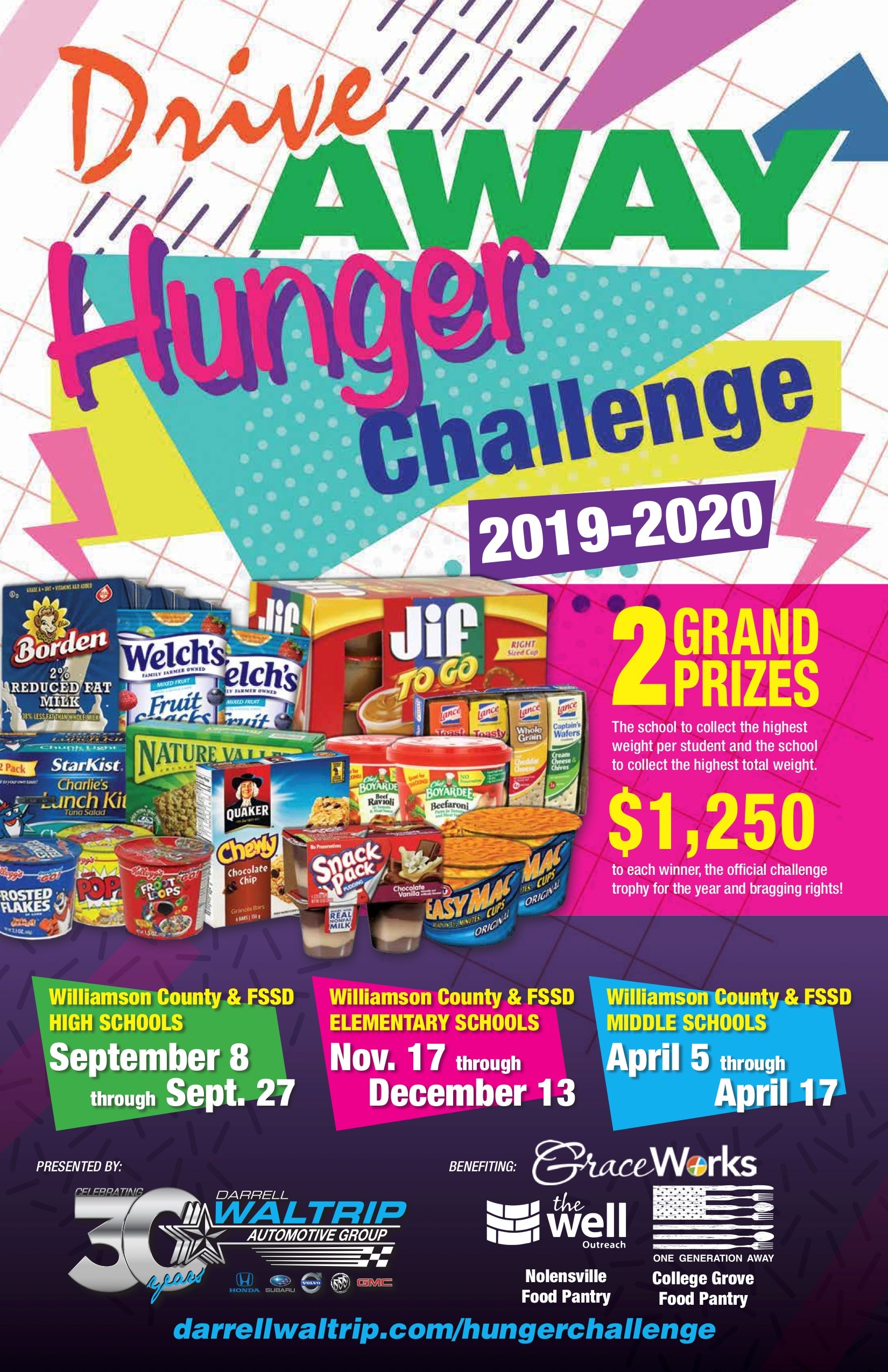 Have A Question? Contact Us!
Hunger Challenge Wishlists
---
Need some direction on what to ask your families for? Download the wishlist for the your pantry of choice here:
The Drive Away Hunger Challenge lets each and every school participating collect for the pantry of their choice. We believe no one knows who is feeding the families in need within your community better than our schools. Here is some information about local food pantries we collect for as chosen by our local schools:
One Generation Away's Wishlist
www.onegenaway.com
One Generation Away distributes healthy foods to families throughout Middle Tennessee that currently do not have access to food sources due to economic and physical barriers.
GraceWorks' Wishlist
www.graceworksministries.net
GraceWorks Ministries provides assistance to our neighbors in difficult times. We provide a family with a grocery cart of food once a month. We provide Fuel Bags to food-insecure students each week. We provide Classroom Snacks to teachers for students that forget their snack or cannot afford to bring one.
College Grove Food Pantry
https://www.facebook.com/pages/College-Grove-Methodist-Church/133735723370152
The College Grove Pantry serves on average 35 families (125-140 neighbors) 48 Saturdays of the year. It is a partnership pantry between about 15 churches and community service organizations and 85 or better volunteers. It serves primarily southeastern Williamson and northern Marshall counties. We offer what we call a "food box" weekly which contains the basic non-perishable food goods and have a "shopping" area in the pantry where neighbors visiting can select things from those shelves. The "shopping" area varies weekly based on what we find on sale. It includes rotating breakfast cereals, corn bread mix, laundry soap, and personal hygiene products as a few examples. All of this supplied at no charge to the guest and is meant to be a weekly supplement. It is not a week's worth of groceries for most families.
The Well's Wishlist
www.springhillwell.org
The Well began as a food pantry in a local church in 2006, with the goal of showing God's love by giving food to those in need. The Well Outreach serve people needing our services who live in Spring Hill, Thompson Station, College Grove, Santa Fe or northern Columbia.
The Nolensville Pantry's Wishlist
www.insidepbc.com/missions/nolensville-food-pantry
The Nolensville Food Pantry is a ministry of Providence Baptist Church. We are located at 1668 Sunset Road, Nolensville TN. Our pantry is in the PBC office. The Nolensville Food Pantry comes alongside families during difficult times to love on them. The pantry helps with immediate needs of food, household, and personal goods. We are here to encourage, support and love families the way God loves us, unconditionally.
High School DAHC
View Poster Here
2018-2019: 136,367 lbs total
Ravenwood High School 40,881 lbs total, 26.22 lbs per student
Nolensville High School 35,609 lbs total, 19.95 lbs per student
2017-2018: 87,189 lbs total
Ravenwood High School 31,351 lbs total
Renaissance High School 51.35 lbs per student
2016-2017: 46,215 lbs total
Fairveiw High School 11.01 lbs per student
Ravenwood High School 13,061 lbs total
2015-2016: 23,670 lbs total
Franklin High School 8,137 lbs
Fairview High School 6.20 lbs. per student
2014-2015: 24,833 lbs total
Franklin High School 8,403 lbs
Fairview High School 8.12 lbs per student
2013-2014: 19,565 lbs total
Middle College High School 5.90 lbs. per student
Franklin High School 5,579 lbs
2012-2013: 20,195 lbs total
Centennial High School 7,919 lbs
Middle College 5.59 lbs per student
Middle School DAHC
View Poster Here
2018-2019: 111,833 lbs total
Freedom Middle School 52.8 pounds per student, 31,020 pounds total
Woodland Middle School 37.26 pounds per student, 38,528 pounds total
2017-2018: 131,842 lbs total
Woodland Middle 86,063 lbs.
Freedom Intermediate 25,654 lbs
2016-2017: 51,735 lbs total
Freedom Intermediate School 16.57 lbs per student
Woodland Middle School 31,197 lbs
2015-2016: 37,977 lbs total
Freedom Intermediate School 18.08 lbs per student
Woodland Middle School 18,639 lbs.
2014-2015: 17,769 lbs total
Hillsboro Middle School 4.94 lbs per student
Woodland Middle School 4,950 lbs
Elementary School DAHC
View Poster Here
2017-2018: 11,859 lbs total
Westwood Elementary 2,957 lbs.
Nolensville Elementary 3,868 lbs.
Liberty Elementary 2,775 lbs.
2016-2017: 31,922 lbs total
Fairview Elementary School 3,913 lbs
Westwood Elementary School 5,014 lbs
Moore Elementary School 3,891 lbs